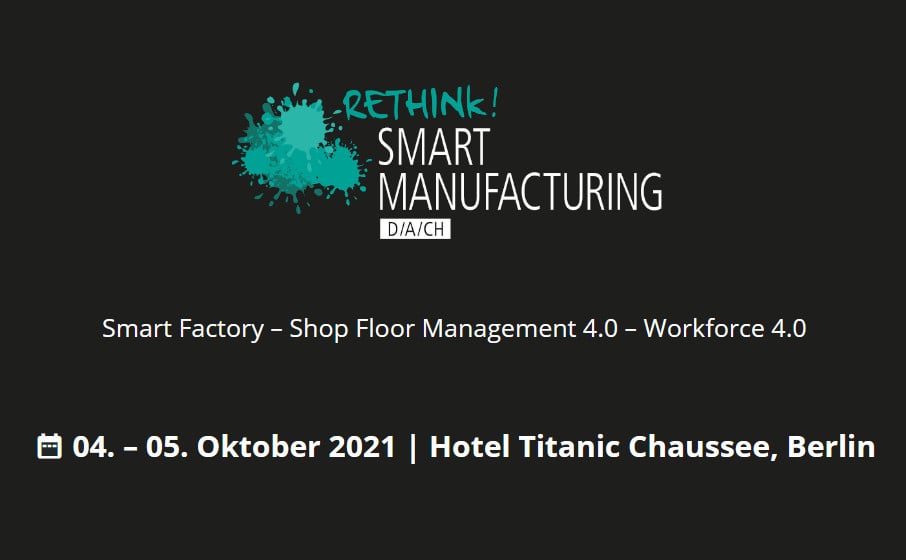 Crate.io will be present as a key speaker at the 7th edition of Rethink! Smart Manufacturing 2021. It's the leading event discussing lean management and industry 4.0 in a hybrid format. More than 150 production managers directors come together to exchange experiences, new ideas and future perspectives in the context of "Smart Manufacturing" and to develop them further. Meet Crate.io representatives at this event and listen to Christian Lutz, Co-Founder and President of Crate.io, who will talk about Data-Driven Decision Making with Edge and AI.
Data-Driven Decision Making with Edge and AI
The successful execution of a data-first and AI-first strategy to enable data-driven decisions is key to stay in front in our highly competitive environment. This talk will cover basic principles and using a few practical examples explain how such strategies can be developed and deployed. A specific focus will be on manufacturing processes and data/AI, utilizing data-driven decisions in discrete manufacturing as well as successful AI execution.
Key takeaways:
Learn about principles and requirements to be data-driven and be AI-first thinking
See successful examples in manufacturing at scale (eg hundreds of production lines connected)
Insight in data architectures for hybrid, large deployments in the cloud and on the edge
Christian Lutz is Co-Founder and President of Crate.io. He has 20+ years of experience as a startup entrepreneur, with a strong track record in enterprise software. He studied Industrial Engineering at Technical University Vienna, turned into a technology entrepreneur and founded his first software company in 1999. Since then he has successfully raised 19+ large rounds in venture funding for "his" companies and closed several trade sales, acquisitions, mergers in EU&USA. In 2013, Christian Lutz co-founded Crate.io to build CrateDB, and together with the Crate team we reinvent how companies can gain insights from their data in a clever and efficient way. Besides business & family, he loves to challenge high mountains in winter and summer as well as every sport on or below water, traveling, and cooking.